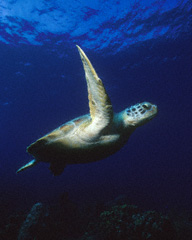 Here's the latest news about Jeff and Nature Imagery!
In January 2003, Jeff's photography was again published in Alert Diver, a national SCUBA diving magazine. To learn more, click here.
In August 2002, Jeff recently returned from an extended work assignment on Little Cayman island. His primary responsibilities there were shooting, editing, and producing under and above-water videos, managing a retail photo operation, and teaching underwater photo and video courses. "The beautiful, diverse flora and fauna of Little Cayman are what drew me there," says Jeff. "The dramatic, shear walls of Bloody Bay host marine life in all sizes, shapes, and colors - from Atlantic manta rays and reef sharks to minute nudibranchs and sea horses. After diving, the booby birds, iguanas, flowers, and tropical sunsets offered a feast for the senses. Little Cayman provides subjects for photographers of all skill levels and interests."